The French American Innovation Days (FAID) on Physical Sciences and Engineering Solutions for the Environment -FAID Green & Blue in short- are organized by the Office for Science & Technology of the Embassy of France in the United States in partnership with the Harte Research Institute (Corpus Christi, USA), CEEBIOS (France) and Myceco (France). This event brings together prominent American and French experts to discuss latest research advances and innovation in environment field in order to foster transatlantic connections.
2021 session focuses on the following themes:
Monday, September 13th –

Innovations in Energy:
Wind, solar and alternative energy sources and meeting the challenges of efficiency, environment and economics,

Wednesday, September 15th – Water and the Environment:
Innovations and challenges in water management, waste management, and recycling in balance with the health and productivity of the waters that surround us,


Friday, September 17th –

Resilience in the Built Environment:
How do we balance population growth, economic development and the environment in the face of climate change,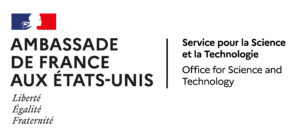 The Office for Science and Technology (OST), a team of 22 staff members including professors, senior researchers and engineers located in the Embassy (Washington, DC) and 6 consular offices (Atlanta – Boston – Chicago – Houston – Los Angeles – San Francisco) is dedicated to bilateral FR-US collaborations in Science and Technology.