The French American Innovation Day is organized by the Office for Science & Technology of the Embassy of France in the United States in partnership with the French American Chamber of Commerce in Houston and the TMC Innovation Institute. This event brings together prominent American and French experts to discuss latest research advances and innovation in environment field in order to foster transatlantic connections.
2021 session focuses on the following themes: 
– Renewable energies
– Freshwater management
–  Cities sustainability and resilience

The FAID program will be provided soon.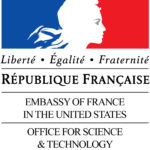 The Office for Science and Technology (OST), a team of 24 staff members including professors, senior researchers and engineers located in the Embassy (Washington, DC) and 6 consular offices (Atlanta – Boston – Chicago – Houston – Los Angeles – San Francisco) is dedicated to bilateral FR-US collaborations in Science and Technology.